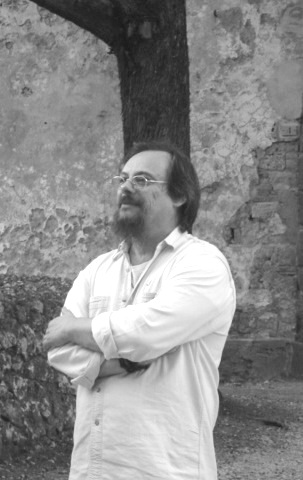 Download the curriculum:
Gianmartino Durighello, composer, musicologist and teacher, is lecturer in Esercitazioni Corali (Choral Studies) at Castelfranco Veneto Conservatoire in Italy and teaches Musicologia Sacra (Sacred Musicology), Spiritualità ed Estetica del Canto Gregoriano (Spirituality and Aesthetics of Gregorian Chant) and Tecniche di Composizione per la Liturgia (Musical Composition for Liturgy) as part of the Postgraduate Course in Sacred Music in the same institute.

He is Member of the Artistic committee of the Asac-Veneto. He has been Jury member of several national and international competitions on choral singing and composition (Arezzo, Trento, Trieste, Venezia, Vittorio Veneto…)

As a composer Durighello has collaborated with various Associations, musicians and choral formations and has given master classes and composition workshops. Several of his compositions have won awards in National and International competitions and have been broadcasted on the Italian national network (TV RAI Uno) and private broadcasting stations. His compositions have also been chosen as obligatory pieces in competitions and have been included as study pieces in training and specialized lectures, and have also  been recorded.

He teaches  Liturgical Musicology and Choral conducting at the Music Institute for Liturgy of the diocese of Padova.

He has published texts on liturgical spirituality and lectio divina.
Gianmartino Durighello, compositore, musicologo e didatta, è titolare della cattedra di «Esercitazioni Corali» presso il Conservatorio "A. Steffani" di Castelfranco Veneto ed insegna «Musicologia Sacra», «Spiritualità ed Estetica del canto gregoriano» e «Tecniche di composizione per la Liturgia» nel Biennio di specializzazione in Musica Sacra presso lo stesso Istituto.
È consulente artistico dell'Asac-Regione Veneto.
Come compositore ha collaborato con vari enti, musicisti e formazioni corali ed è stato chiamato come docente in master class e laboratori di composizione.
Alcune sue composizioni sono state premiate in concorsi nazionali ed internazionali, trasmesse da RAI Uno e da emittenti private, scelte come brano d'obbligo in concorsi, inserite come brano di studio in corsi di formazione e specializzazione, e incise.
Insegna «Musicologia Liturgica» e «Direzione di Coro» presso l'Istituto di Musica per la Liturgia della Diocesi di Padova.
Ha pubblicato testi di spiritualità liturgica e lectio divina.